on saturday logan & i got to salt lake with the help of our
friends caleb, chris & jordan.
logan has been best buds with these 3 gentlemen since freshman year.
we all drove up to the big s-l-c friday night around 9:00pm
after caleb's soccer game.
we rolled into my neighborhood around 10 and i already felt
like death on wheels.
logan & i pretty much go to bed around 9 every night.
needless to say, 10pm felt like 2am to me at this point.
we got settled and watched some TV.
then the boys discovered we had a hot tub at my house and convinced me to let them get in around 11:30pm.
they all had fun soaking it up in the hot tub while i watched TV
and was dozing off.
about half past midnight we thought it was a good idea to make
pizza and ravioli.
we all had fun in the kitchen cooking the food while caleb was in the living room
playing the piano for us.
after eating we watched more TV, and by 1:30am i couldn't keep my eyes
open any more.
i was the first to go to bed and the boys stayed up for at least
another hour or so.
it was a pretty fun night, but as soon as my alarm went off at 6:45am to
wake up for the race i immediately regretted the "fun" we had the night before.
my mom has organized the east high running of the leopards
for the past 3 years.
it was a fund-raiser race she started when she was on the PTA at east high when my youngest brother, James was still a student there.
so every year for the past couple of years my siblings and
family and friends have all participated in this race!
the race starts in salt lake at the hogle zoo and finishes on the east high track.
it is only a 5k, but it's the "fastest 5k in utah" because its basically all down hill.
driving to the race we were pretty much all zombies.
we all rolled out of bed, got in the car, got our race numbers, and piled
into a bus that took us up to the start of the race at the zoo.
it was freezing.
we ran around the parking lot a few times and ended up cuddling around
each other to keep from freezing.
logan & i had talked about our strategy for the race this year.
last year when we ran it we stuck together the whole time, and
ended up with a time around 24 minutes.
this year logan really wanted to get under 21 minutes.
he talked about pacing himself and not running too fast, etc.
i knew this would all go out the window the second that big east high
leopard mascot was raised high above the start crowd in a cherry-picker.
the second that big leopard mascot shot that gun logan took of like his pants were on fire.
i was fine with him leaving me in the dust.
i didn't want to hold him back.
i like running in races but i also hate it.
i hate it because i always feel like i have to keep up with people around me or pass them.
i end up running way to fast at the beginning and get burned out.
within the first 50 steps of this race i knew i was going to hate my life for the next 3 miles.
with each step i took i regretted staying up till 1:30am.
i regretted eating pizza.
i regretted eating ravioli.
basically i wanted to run off the race path and dive into
the nearest bed that i saw.
but i didn't want to stop because that would have been embarrassing,
so i kept on going.
i knew i was running fast at the beginning, probably in a feeble attempt to keep up with logan and the rest of the boys, but wasn't sure exactly how fast until
i passed the first mile marker.
the man standing there with a timer yelled out "7:22!"
i wanted to die right then and there.
i can't even remember the last time i ran a mile in under like 10 minutes.
needless to say, i slowed down a bit after that 1st mile.
logan and the boys were nowhere in sight.
the rest of the race i tried to just imagine how nice it would be when
it was over and i could take a nap.
i know it was this thought that kept me going.
i was pretty tired by the time i could see the finish line at the east high track.
they say when you run a race it can be a mental blow
when someone passes you.
i couldn't care less if a grandma on a scooter passed me at this point.
i just wanted to finish.
at the last moment, as i could see the finish line a few yards ahead of me,
a dad in his mid 40's passed me.
he was pushing a stroller.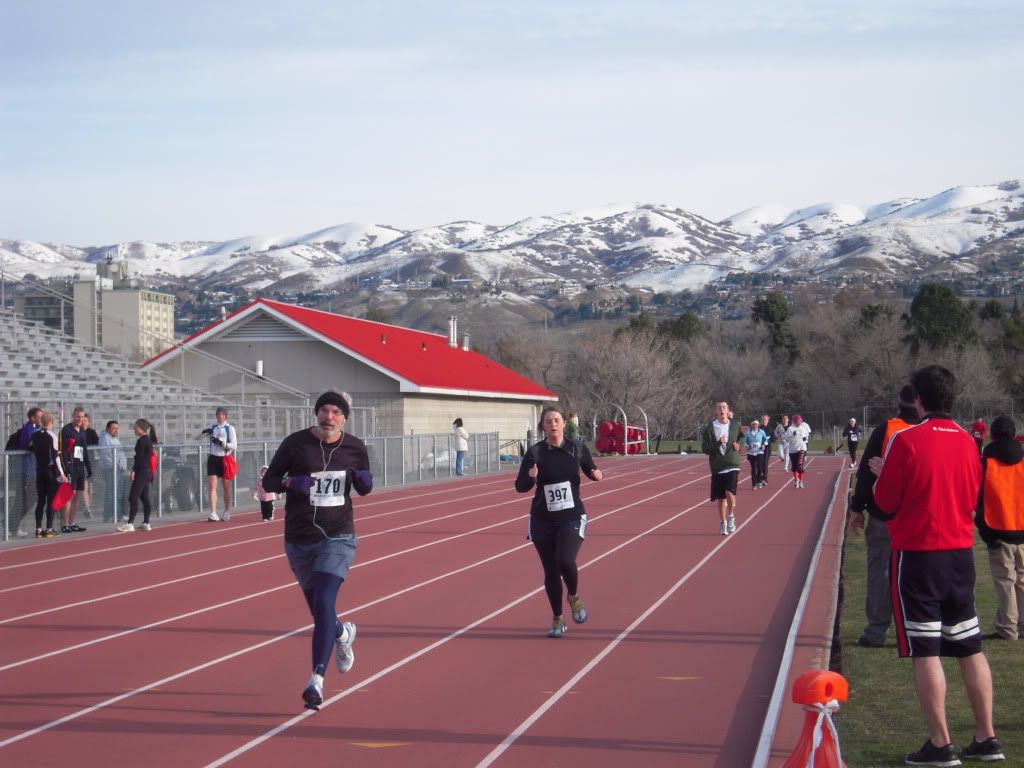 as you can see, the look on my face reads:
"please just let me finish this race and i promise i will never stay up past 1am
and eat pizza ever again".
you may also notice there is a man who looks like a grandpa to my
left who is clearly beating me.
i finished the race in 23:50.
logan and his buddies finished around 21:20.
you can see logan in the right corner of the pic cheering me on.
he was bummed he didn't get under 21, but he was pretty
happy about sprinting
to the finish and beating out a lady that was apparently in her mid 50's.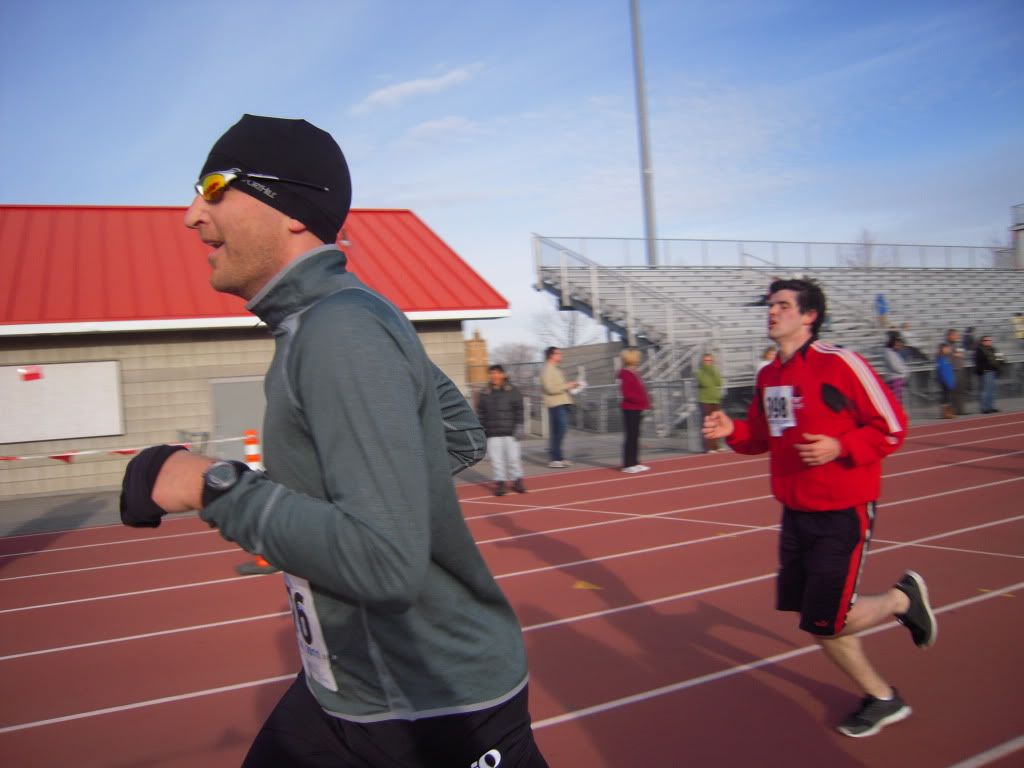 the picture that caleb took of jordan is by far my favorite.
i like it because of the way he fashioned his hood as a shield from the cold and the wind.


after the race we had fun eating the bananas and bagels and oranges set out
on these huge tables.
i didn't think i would want to eat anything after the race but after
eating 1/4 a bagel my body was screaming for more.
as in years past, we took pictures by the finish line.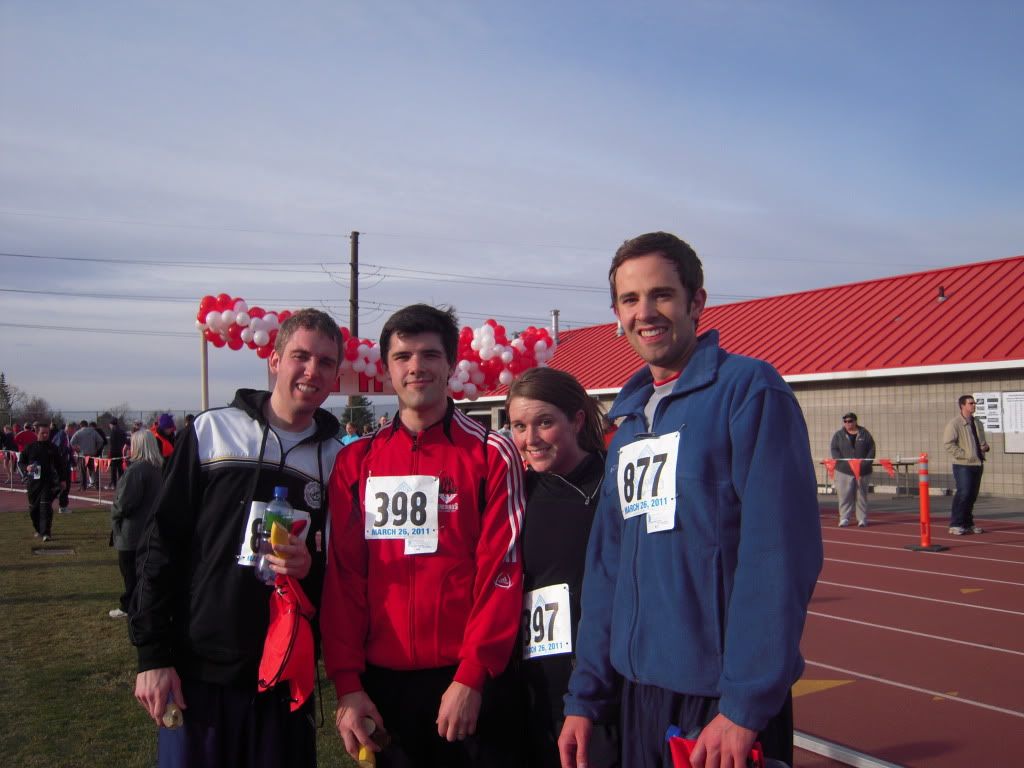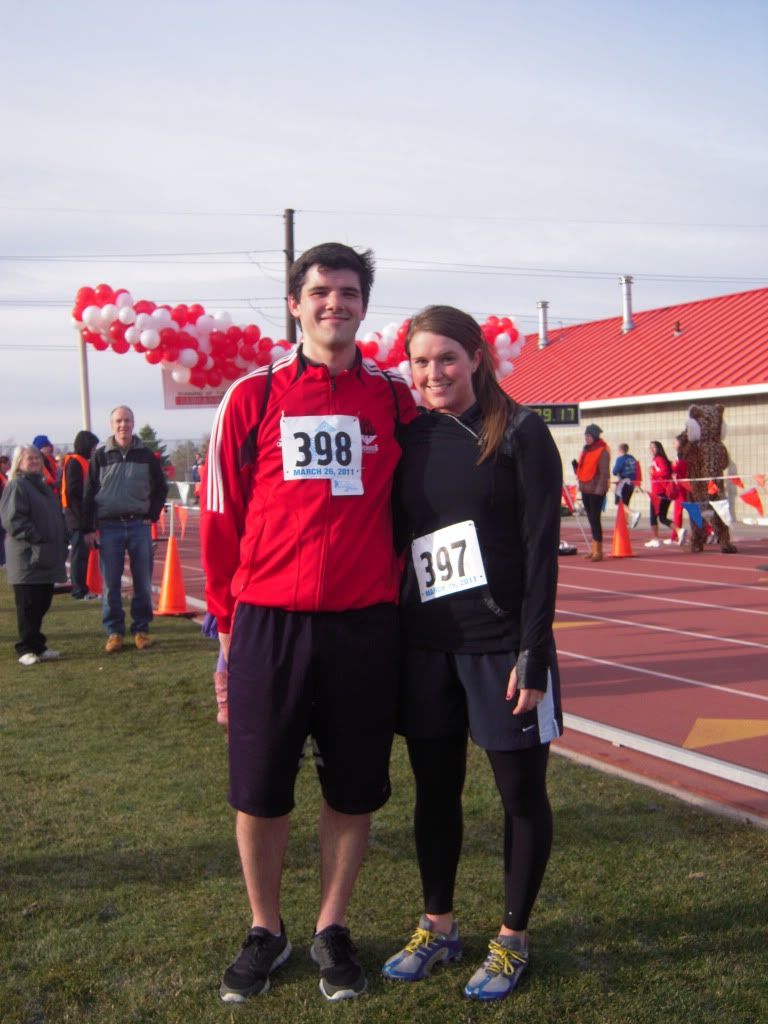 this year the race had about 1,000 people registered.
it was a fun experience and everyone had a good time!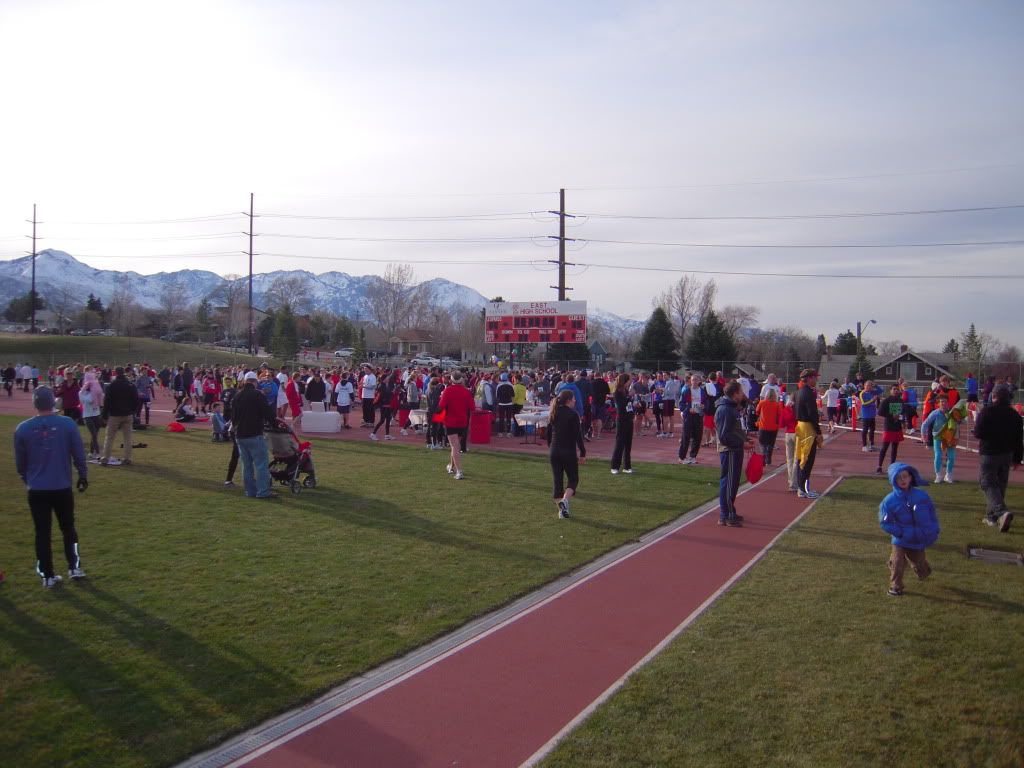 when we went back to my house the boys got in the hot tub again.
i crashed on the couch for a nap.
2 hours later the boys were out of the hot tub and i was awake from my nap.
we spent the rest of the afternoon lying around and watching TV.
it was a pretty relaxing weekend, minus the whole running
a 5k on minimal sleep
and a stomach filled with italian food.
can't wait for next year!